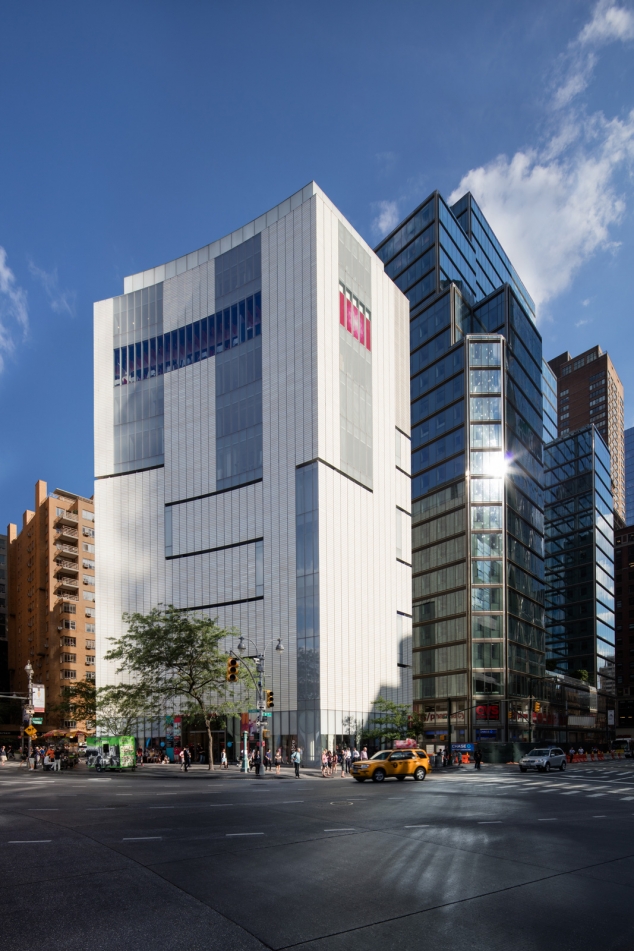 The Museum of Arts and Design at Columbus Circle
click image to enlarge
Windgate Research Curator
The Museum of Arts and Design (MAD) invites applications for the position of Windgate Research Curator for a three-year term. The Research Curator continues a significant partnership between MAD, the Bard Graduate Center: Decorative Arts, Design History, Material Culture (BGC) in New York, and the Center for Craft in North Carolina to contribute to research, exhibitions, and discourse about craft and design. 
See More...
At MAD, the Research Curator will be part of the Curatorial Department, and part of the team leading the reinstallation of the Museum's permanent collection. In consultation with the chief curator, this work will include checklist development; supporting foundation grant applications; oversight, contribution to, and project management of related publications and exhibition texts; organization of planning sessions; and participation in generating public programming. Additional responsibilities related to exhibitions and publications may be assigned by the chief curator. At BGC, the Research Curator will act as the primary liaison between MAD and BGC, and teach regular graduate seminars on the history and theory of craft and/or design. The Research Curator will also extend the discourse about craft and design to the Center for Craft by serving on the Center's Program Advisory Committee and contributing to additional Center for Craft programming.
Requirements
The ideal candidate is a post-doctorate scholar and/or curator with knowledge in craft, design, and/or material culture with teaching experience, knowledge of the museum setting, and a demonstrated record of project management. This is a grant-funded position that includes benefits.
Application Instructions
All applications must be received by November 1st. The application should include a cover letter, indicating areas of expertise and special interest, curriculum vitae, writing samples, and a list of three recommenders with contact information. Applications should be sent by email to darci.spasojevich@madmuseum.org with the subject line Windgate Research Curator Search.
The Museum of Arts and Design is an equal opportunity employer and does not discriminate in the hiring of personnel on the basis of race, creed, color, religion, national and ethnic origin, gender, age, Vietnam-era veteran or disabled veteran status, sexual orientation, marital status, disability, or any other projected status as provided by law.
Controller
The Museum of Arts and Design seeks a Controller to join our Finance and Administration Department. The Controller prepares the monthly financial reporting package, and provides financial statement analysis, budget, and audit support.
See More...
A high level of computer literacy is required in this role; this would include writing reports in financial Edge to compiling complex Excel models for budgeting purposes. In addition the controller will be responsible for improving financial process and systems integration.
PRINCIPAL DUTIES
Guides and monitors the month-end close process to ensure timely financial statement reporting
Maintains copies of all grants and receivables and reviews all grants to ensure that financial reporting requirements of funders are being met
Produces monthly financial statements, including Statement of Financial Position, Statement of Activities with comparisons to budget, Cash Flow Statement, Rolling Forecast, Net Assets Roll-forward, and Memo pointing out significant information.  Submits reports to and reviews with senior management
Maintains work papers and reconciliations for balance sheet and significant accounts
Maintains the Financial Edge accounting system, including the chart of accounts, reports, and budgets
Develops the annual budget with the CFO, with input from department heads
Produces grant expense reports as needed for Development & Education departments
Prepares financial statements  for grant reporting
Updates financial data on reporting agency websites
Responsible for approving disbursements, monitoring outstanding checks and cash flow
Responsible for sales tax filings
Attends finance & audit committee and/or board meetings to assist executive management in the presentation of monthly financial statement reports
Oversees and manages external auditors in the completion of the annual financial statement
Oversees and manages external accountants in preparation of the federal form 990
As needed, answer accounting and financial questions from the Director, Trustees , CFO or other Senior Staff members
Serves as back-up for Assistant Controller function
Performs other assignments and duties as necessary
ABILITY TO
Represent the Museum of Arts and Design to the highest standards.
Be able to deal with multiple personality types while remaining professional and courteous.
Establish and maintain effective working relationships with others.
Adjust to changing priorities and work on multiple projects simultaneously.
Plan and organize work to meet schedules and deadlines.
Work under pressure and meet multiple deadlines at a given time paired with excellent attention to detail.
Have the desire to work in a fast-paced environment.
Want to help and support others.
Demonstrate attention to detail.
Possess excellent oral, written, presentation and organizational skills.
Be a self-starter who can take direction and contribute ideas.
Have the ability to work independently on projects while meeting deadlines.
Must be able to work well on their own, while still being a team player.
Must exhibit a positive, "can do" attitude.
 Must possess excellent "people" skills and the ability to work effectively with employees at all levels within the organization, as well as Board members.
QUALIFICATIONS
Bachelor's degree in accounting; MBA or CPA preferred
Seven or more years supervisory/controllership/CFO experience required
Non-profit accounting experience preferred
Ability to work on multiple systems, extract data and produce reports timely
Knowledge of Financial Edge, or other accounting software
Demonstrated advanced proficiency in Microsoft Excel
Demonstrated knowledge of financial reporting and audit support
Superior attention to detail, with excellent analytical skills
Please send your resume and cover letter, including desired salary to hr@madmuseum.org. Applications without cover letters and/or desired salary will not be considered. Only candidates of interest will be contacted for an interview. No phone calls, please.
Visitor Experience Manager
The Museum of Arts and Design (MAD) seeks a full-time Visitor Experience Manager to ensure a welcoming and positive experience for all visitors. This fast-paced position will be responsible for all aspects of customer service related to public admissions at the Museum, which receives over 250,000 visitors annually, and will oversee all related data analytics and reporting. An active member of the front-line customer service team, the Visitor Experience Manager will hire, train, and manage a team of Visitor Experience Associates, who serve as the primary greeters to Museum visitors. The successful candidate will possess excellent interpersonal skills, an ability to genuinely welcome and inform a wide range of visitors, demonstrated management abilities, the capacity to prepare and analyze data, and oversee daily ticketing/sales transactions. The position reports directly to the Deputy Director, Communications and Marketing.
See More...
Primary Responsibilities
Foster a warm and welcoming environment for Museum visitors, ensuring that they are informed about daily programming and other offerings, including membership.
Promote and sell memberships, and provide member support, as needed. Establish and enforce concrete weekly targets for membership sales by Visitor Experience Team.
Oversee maintenance and utilization of admissions and ticketing software; manage sales transactions, including tracking, reporting, cash management, and opening and closing procedures.
Compile attendance data and prepare weekly reports, as well as quarterly board reports; streamline reporting to ensure accuracy, and establish best practices for data collection.
Serve as a super user of ticketing software, support training of colleagues across the Museum to empower them to handle basic tasks, defining and instilling best practices.
Hire, train, and manage Visitor Experience Associates; foster consistent standard of service among all associates.
Provide daily updates on Museum offerings to all Visitor Experience Associates, and notify team of important guests and special events and activities.
Develop and evolve customer service guidelines distributed to all front-line staff.
Facilitate Visitor Experience Associate walk-throughs of exhibitions and briefings of events; Devise and implement strategies for enriching the visitor experience.
Collect and report visitor feedback, received on premise, via email, and via online sources; and monitor the MAD Information inbox, responding to or redirecting inquiries.
Ensure effective, on-brand admissions desk operations through monitoring of collateral materials and supplies, and ensuring that promotional materials are readily available.
Oversee requirements to sustain and grow third-party admissions partnerships (i.e., New York Pass, Groupon) in collaboration with the Marketing team.
Encourage promotion and sale of paid public program tickets; create special event registration links (members openings, etc.), as needed.
Develop protocols for routine collection of email addresses and other key demographic information; collaborate with Marketing on system to add email addresses to master list.
Create staffing structure for the Visitor Experience team, allowing for flexibility and responsiveness in support of institutional goals and priorities.
Oversee booking of Group Tours; collaborate with Marketing to grow revenue stream.
Spearhead audience evaluation projects and visitor surveys, as required.
Qualifications
3 to 5 years of visitor services experience, or equivalent sales, marketing, or customer service experience within a cultural institution, with a proven ability to manage staff.
Demonstrated experience with data tracking, analysis, and ticketing software systems required. Proficiency with ACME preferred.
A professional, warm, and positive attitude, coupled with strong customer service, problem-solving, and interpersonal skills.
Excellent organizational and team-building skills. Ability to multi-task and handle competing priorities.
Excellent oral and written communication skills, with the ability to effectively impart Museum policies and offerings to visitors.
An interest in art, craft, and design, with an eagerness to learn about MAD's exhibitions and programs, and to play a critical role in supporting MAD's vision for the future.
Experience in tourism and hospitality industry, a plus. Foreign language skills, a plus.
Availability to work evenings and weekends, as needed.
Application Instructions
Please email your resume, cover letter (including desired salary), and the names and contact details of four professional references to madmarketing@madmuseum.org with the exact subject line "Visitor Experience Manager." Applications without cover letters and salary requirements will not be considered. Please indicate available start date in the cover letter. Only eligible candidates will be contacted for an interview. No phone calls, please.
Director of Facilities
The Museum of Arts and Design is a 50,000 sq. ft. facility located on Columbus Circle with 12, 000 sq. ft. of galleries, retail and event spaces, a 143-seat auditorium, a restaurant, administrative offices and storage space. It is a 24/7 facility that welcomes over 300,000 visitors annually. This position oversees both the Facilities and Security teams that are responsible for all physical plant maintenance, operations and planning; environmental services and security operations. As the head of these important departments, it is essential that this position be directly involved in the teams' daily responsibilities and actively cultivate positive team morale. The Director of Facilities also plays an important diplomatic role in the institution, as they are responsible for developing and maintaining constructive and collaborative relationships with the restaurant, venue rental clients, neighbors, and other museum departments.
See More...
Essential Functions
Oversee strategic and operational planning as it relates to the administration of Museum facility services. Assure departmental organization and systems reliably sustain facility operations in full compliance with all regulatory and safety standards.
Manage the Security, Facilities and Maintenance staff.
Generate, maintain, and assure adherence to budgets and schedules for all facility services and capital projects.
Prepare and review all department related check requests.
Ensure the facilities department is effectively structured to best serve Museum needs, ensure safety and security, and meet operational financial objectives.
Maintain and communicate current policies and procedures, including Emergency Preparedness, and Disaster Management Procedures.
Personally oversee the Facilities and Security response to any potential disasters and/or emergencies.
Ensure all HVAC, MEP, fire/life-safety and building control systems are fully functioning, compliant and properly maintained and staff is appropriately trained and certified.
Working with Director of Collections, ensure adherence to environmental standards for Museum facilities and provide timely facilities reports.
Direct and control construction projects to ensure completion according to plans, specifications, schedules, budgets, and contractual commitments.
Ensure compliance with all requisite regulations concerning employee and public health and safety, and building codes.
Keep current with security protocols, and manage relationship and training with security vendor and ensure good customer service from security staff.
Coordinate with any federal, state and local agencies governing the facilities operation.
Ensure service and operations standards with a focus on customer service, quality, timeliness while working within budgetary constraints.
Coordinate building activities with restaurant and ensure compliance with operating agreement.
Ensure compliance with all human resource and workplace standards for department employees.

17. Support space rental program by providing adequate facility staffing and ensuring facility condition requirements are met.

Maintain as-built plans for entire facility.
Manage Museum's MSDS information and safety committee, as well as emergency response training.
Work with Director of Collections Management and Director of Exhibitions regarding installation of exhibitions, ingress/egress and ADA compliance, and related security pertaining to galleries, back-of-house activities and preparing, filing and maintaining Temporary Public Assembly permits.
Collaborate with Collections Department on integrated Museum pest management, planning and impleme

ntation.

Regularly liaise with Collections Department on general art security, shipments in and out of the building, and best practices in fine art storage.
Contribute to annual update of AAM Facilities Report; review other Museums Facilities Reports and exhibition designs, as needed.
Work with Collections Department on Emergency Preparedness as it relates to fine art collections.
Qualifications, Knowledge, Skills, and Abilities Requires
BA/BS or the equivalent combination of education and experience.
7-10 years relevant leadership experience required. Extensive professional experience in the oversight of the facilities, maintenance, and security functions in a vertical facility (preferably a museum, educational or cultural institution, nonprofit or customer service-focused organization). Ability to motivate, retain, and recruit staff.
Excellent interpersonal, written, and oral communication skills; ability to communicate effectively with staff and vendors at all levels.
Possess leadership skills in listening, communicating, documenting, and writing in a professional manner.
Demonstrated proficiency and accuracy using MS Office products, including Word, Excel, Outlook, and other software programs.
Proficiency with Building Management Systems and related equipment.
Organizational ability with strong management and supervisory skills; ability to work with close attention to detail, and to maintain confidentiality.
Ability to build positive working relationships within as well as outside of organization.
Ability to create, administer, monitor and report on business plans and budgets for operations functions.
Ability to read, analyze and interpret general business documents, contracts, technical procedures and regulations.
Capacity to work in a multitasking environment and the ability to be receptive to changing priorities, well under pressure; excellent time management, problem solving, and analytical skills.
Ability to adhere to Museum policies and support management decisions in a positive, professional manner.
Possess or be able to obtain Certificates of Fitness for Fire/Life Safety equipment, including F-01 Fire Guard for Impairment; F-07 Fire and Emergency Drill Conductor; C-92 Supervisor of Flammable Combustible Liquids; S-95 Supervisor of Fire Alarm Systems; S-13 City Wide Standpipe Systems; S-12 City Wide Sprinkler Systems.
Working Conditions
Work areas are internal and external in all weather conditions. Work may require occasional long periods of sustained standing during Museum activities. Position requires on call availability to respond to Museum emergencies 24 hours a day, seven days a week. The ability to lift and carry up to fourty pounds is necessary for moving materials and equipment.
For more information on the Museum, please visit madmuseum.org. If interested, please send resume, cover letter, four professional references, and salary requirements to: facilities@madmuseum.org
Phone calls and hard copy submissions will not be accepted.
Membership Sales Associate (Part Time)
The Museum of Arts and Design (MAD) seeks a part-time membership sales associate to work with our Membership and Visitor Experience Departments.  The Membership Sales Associate's main function is to actively recruit new members on-site. The Sales Associate is expected to approach, greet, and engage Museum visitors in an effort to sell memberships.
See More...
This position reports to MAD's Director of Membership, but will work collaboratively with colleagues across the Museum. This is a part-time position, not to exceed 20 hours per week. Compensation is $15 an hour plus bonus.
Essential Functions
Actively welcome visitors to the Museum and inform them about museum membership and its benefits, special promotions, and upcoming events. 
Promote membership during special exhibition campaigns, special promotions and public programs.
Demonstrate a complete and thorough understanding of all levels of membership and their respective benefits.
Complete membership application forms for new and renewing members.
Ensure that Membership Applications are kept well stocked in appropriate places throughout the Museum.
Keep abreast of all Museum events, activities, current and upcoming exhibitions, etc.
Provide limited administrative support to the Membership Office, and help with Membership events, as it required
Requirements
Bachelor's degree or equivalent combination of education and experience, coupled with interest in arts administration.
Previous sales/customer service experience needed.
Strong communication, organizational, and recruitment skills.
Must be exceptionally outgoing and personable with the ability to interact effectively with Museum staff, members and visitors.
Outstanding written and verbal communications skills, as well as proficiency with Microsoft Office, and knowledge of POS software systems, ACME experience preferred.
Applications
Review of applications begins immediately and continues until position is filled.  Interested candidates should send a cover letter and resume to: Jobs@madmuseum.org with the position title "Membership Sales Associate" in the subject line. Only eligible candidates will be contacted. No phone calls, please.
MAD is an equal opportunity employer and does not discriminate in the hiring of personnel on the basis of race, creed, color, religion, national or ethnic origin, gender, age, Vietnam-era veteran or disabled veteran status, sexual orientation, marital status, disability, or any other protected status as provided by law.
Visitor Experience Associate
Visitor Experience Associates are the front line staff of the Museum, creating the "face" of MAD to the public. This position is responsible for ensuring a positive visitor experience.
See More...
Job duties include and are not limited to
Actively and enthusiastically greeting the public.
Sell tickets including cash and credit card transactions.
Manage cash till in accordance with museum policies and procedures.
Sell, process, and provide tickets and information about lectures, films, and special programs.
Sell memberships and provide member support during shifts
Answer inquiries about exhibitions, programs, amenities, membership, and related matters.
Answer phone calls to Visitor Services desk.
Coordinate with various departments regarding daily operations, deliveries, and appointments.
Perform crowd control in lobby as needed
Restock the desk with exhibition, program and membership brochures.
Perform opening, mid-shift, and closing duties.
Notify Manager of services and information the public routinely requests.
Perform other duties as assigned.
Qualifications
Candidates must possess, or have significant coursework towards, a Bachelor's degree, as well as an understanding of customer service.
Knowledge of ACME ticketing software a plus.
Knowledge of Raiser's Edge a plus.
Excellent customer service, problem-solving, and interpersonal skills.
Must be able to work nights and weekends.
Knowledge of Spanish or French is helpful but not required.
Knowledge of art, craft, design, or museum work is strongly preferred.
Weekend, evening, and holiday availability preferred.
Scheduling
Part-time Visitor Experience Associates are scheduled up to 16 hours per week. Additional hours may be available.
Please submit a resume and cover letter to Saran Adkinson, Visitor Experience Manager by emailing jobs@madmuseum.org with subject line: Visitor Experience Associate.
Opportunities for Artists
Artist Studios Program
The Artist Studios program hosts artists and designers daily in open studios. Artists-in-residence receive space and support to develop new work and expand their practice, while welcoming dialogue with the public about their processes, materials, and concepts.
The Program offers one full-time MAD Fellowship and six daily residencies per six-month session (February—July, August—January). Each resident is assigned one day each week to work, including select Thursday evenings, while fellows work 40 hours per week (schedule varies). Both residents and fellows benefit from a stipend, studio space with access to a variety of tools and materials, as well as professional development opportunities.
Successful applicants have a mature body of work and clearly understand the public-facing dimension of the program. Learn more about the Artist Studios.
Burke Prize
Named for Marian and Russell Burke, two passionate collectors of craft and longtime supporters of MAD, the Burke Prize is an annual award that reinforces the Museum's commitment to celebrating the next generation of artists working in and advancing the disciplines that shaped the American studio craft movement. The prize is an unrestricted $50,000 award made to a professional artist age 45 or under working in glass, fiber, clay, metal, or wood.
Each fall, the Museum presents an exhibition of works by the Burke Prize finalists. The winner is announced at the MAD Ball, the Museum's annual fundraising gala. Learn about the 2018 Burke Prize finalists and exhibition here.