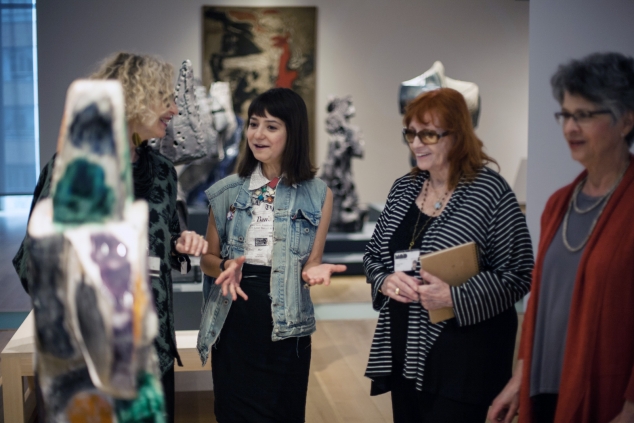 A MAD docent tour in the studio

click image to enlarge
Group tours are a great way to engage with our exhibitions in an in-depth way, and to learn about the materials, processes, and concepts that drive contemporary innovation in the fields of craft, art, and design. At MAD, we emphasize dialogue, inquiry, interpretation, and visitor engagement.
Guided Groups
Private docent-led tours last approximately 60 minutes. MAD docents spend hours preparing for tours and aim to provide learning opportunities that are not only informative, but open the floor for discussion and engagement. Guided tours can be focused on special exhibitions or provide a more general overview.  We recommend reviewing our current exhibitions before booking your tour. All guided group reservations must be made at least 30 days in advance.
Non-guided Groups
Groups of eight or more benefit from a reduced admission of $12 per person. Non-guided groups need to make reservations in advance to receive this rate. All non-guided group reservations must be made at least 14 days in advance.
School Groups
Bringing a school group? Click here
Curator-guided Tours
Requests for curator-guided tours are subject to availability and should be emailed directly to groups@madmuseum.org.
Reservations (Guided and Non-guided Groups)
Tour Details for Guided Groups
Rates and Payment Information
Group admission is $12 per person, plus an additional $150 fee per docent
Guide fees ($150 per docent) are due three weeks prior to the date of your visit and are non-refundable. Remaining balance for admission can be paid in advance or upon arrival at the Museum
Group tours last approximately 60 minutes
Availability and Size Limitations
Tours are available during regular Museum hours
Groups are limited to 20 visitors per docent
Large groups can request multiple docents; however, the maximum size for any group visit is 40 visitors (larger groups may send an email inquiry)
Tours focus on special exhibitions or offer a more general overview of Museum highlights
Reservations must be made at least 30 days in advance
Cancellation policy
All reservation changes (including cancellation and rescheduling requests) must be made in writing and sent to groups@madmuseum.org at least three weeks prior to your scheduled tour
Cancellations made with less than three weeks' notice will not be refunded, nor will deposits carry over to future reservations
Additional Information
Gallery stools are available for groups of ten or less. Please note that tours with stools cover fewer on-display works, as visitors stay seated in front of selected objects over a longer period of time.
Groups with visitors using wheelchairs or assisted walking devices are welcome; any group that has more than three visitors using assisted walking devices may want to keep their groups to under ten people to ensure the highest quality experience